Lørdag 26. mai ble det første ridekurset med to av Vikingurs egne rideinstruktører, Rita Sæther og Lene Wilhelmsen, avholdt i skiftende vær og vind på Vikingurs baneanlegg på Ramfjordmoen. Kurset startet med en teoridel der bla den loddrette sits, rytterens hjelpere, løsgjørende og samlende øvelser og ridebanens veier ble forklart på en tydelig og illustrativ måte. Kursets elleve ekvipasjer ble deretter delt i to grupper som fikk rideundervisning samtidig av de to instruktørene. Etter en pause med grilling fikk de ekvipasjene som ønsket det framføre valgfritt rideprogram for instruktørene på Vikingurs flotte ovalbane med påfølgende tilbakemeldinger.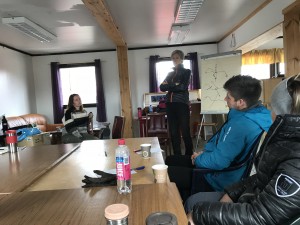 Kursavgiften ble i sin helhet donert til Vikingur, så her ble det gjort en solid dugnadsinnsats av Rita og Lene.
Takk til våre flinke instruktører og til alle kursdeltagere for en lærerik, inspirerende og sosial hestedag!
Kommentarer